Alexander Ovechkin: What The Hell Happened?
Hockey
,
No Class Friday
— By
Dillon Friday
on February 8, 2013 at 7:25 am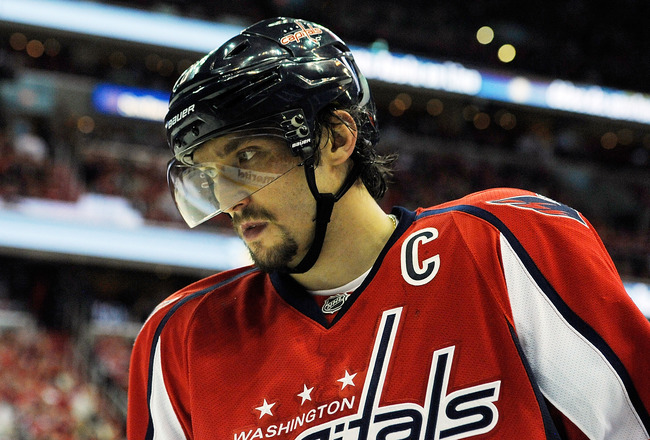 Before Robert Griffin III came along, Washington, DC was Alexander Ovechkin's city. The Capitals left winger was talented and charismatic. He beat defenders and goaltenders with equal abandon, producing as many big hits as big goals. He was fun. He was also very, very good.
In his first five seasons, the man fans affectionately call "Ovi" or the "Great 8" scored 269 goals, averaging a remarkable 54 a season. He scored a left-wing record 65 in 2007-08.
And these weren't your run of the mill tap-ins or so called "garbage goals." Ovi would fly into the zone and unleash a wicked wrist shot that would routinely find the top corners of the net. Close your eyes and you can still picture Ovechkin cocking his stick at the left point, waiting for the one timer that would inevitably zip into the twine.
And of course, he did this every once in awhile.

The National Hockey League loved Ovechkin. He and Sidney Crosby developed a rivalry that helped boost popularity in a league recovering from a lost season. As the budding stars improved, so too did their teams. Suddenly Caps-Pens games that were once on the verge of being played in Kansas City became compelling television.
On one side, you had the Pens led by their cherubic captain, clean-cut, businesslike, stern. On the other side stood the antithesis of Sid, disheveled and smiling, the embodiment of exuberance.
The two battled not only on the ice, but in blogs, bars, and living rooms across the world for the unofficial title of world's best player. While others certainly had cases, Pavel Datsyuk, Nicklas Lidstrom, and Evgeni Malkin come to mind, there were really only two candidates: Ovi or Sid the Kid.
Like Crosby and his seemingly incessant whining, Ovechkin had his shortcomings. His often bombastic antics and reckless hits made him a divisive figure. Few, however, denied his remarkable talent.
That was then. The toss up nature of the rivalry reminds me of a Sportscenter segment that aired sometime around 2000. ESPN asked several NBA players whom they would rather have, Kobe Bryant or Vince Carter. The majority chose Bryant. Many chose Carter. It's not hard to figure out who's who in this analogy.
Whereas injuries severely diminished Carter's effectiveness, Ovechkin has no such excuse. He followed up his torrid five-year start with goal outputs of 32 and 38 respectively, very good but well below his standards. His point total dwindled from 109 in 2009-10 to just 65 in 2011-12.
In what should be the prime of his career, Ovechkin has endured an unprecedented fall from superstar at 24 to virtual non-factor at 27. He's scored just three times so far this season. He has 6 points in 11 games.
Imagine if Kevin Durant suddenly averaged 15 points a game instead of his usual 29. It's almost unfathomable.
According to NBC's Keith Jones, opposing coaches have stopped game planning for Ovechkin almost entirely, the ultimate slap to the face for any athlete.
So what the hell happened?
Some speculate that the lack of coaching stability in Washington has hindered their star player's impact. Indeed, the Capitals are on their third coach in two seasons, all with distinctly different personalities. Ovi flourished under the free-spirited Bruce Boudreau, but also produced his lowest goal total, 32, in Boudreau's final full season in DC.
Many expected disciplinarian Dale Hunter, hard-nosed and unflappable, to reignite the fire in Ovechkin's game. Instead, he kept the Russian on the bench during critical moments of play.
Newcomer Adam Oates, himself an offensive virtuoso, was brought in to right the Ovi train that had started to wobble off the tracks. And, well, it's still awfully wobbly.
"He's become too predictable," analysts argue, "He hasn't adapted his game." While this is true, it doesn't really explain Ovechkin's decline. I'll accept that opponents have adjusted to the sniper's game more than he's adjusted to theirs. But does it really take five full seasons for NHL teams to defend against a player's tendencies?
Perhaps health has been a factor, not necessarily Ovechkin's, but that of his teammates. Nicklas Backstrom contributed 55 assists as a rookie, a large portion of which became Ovi goals on his way to 65. The Swedish center quickly developed into a premier playmaker. He posted 66 and 68 assists in the next two years to help Ovechkin breach 50 goals each season.
But Backstrom has battled various injuries including concussion since he scored 101 points in 2009-10. His point total dropped to 65 in 2011-12, and down to 44 last season when he played only 42 games.
Similarly, powerplay quarterback Mike Green has also suffered his fair share of ailments that have kept him off the ice. His time spent on the Injured Reserve has coincided with Ovechkin's decline. Green has played a combined 81 games over the last two seasons, rarely at 100%.
However, both players have featured in all 11 of the Capitals games thus far. Backstrom is second on the team with 8 points and the d-man Green has a respectable 6 while playing to an even +/- for the last place Caps. If they've slowly returned to form, why hasn't Ovechkin?
There are a litany of other possible explanations ranging from excessive partying to his relationship with tennis star Maria Kirilenko. Ovechkin's ego has also taken a hit over the last few years. His chief rival Crosby won first a Stanley Cup and then an Olympic Gold Medal, dispatching Ovechkin-led teams each time.
One would think such results would inspire a star player rather than disparage him. But that hasn't been the case with the Capitals captain.
To be honest, I don't know what's wrong with Alexander Ovechkin. It could be all of the above. It could be some. It could be none. I'm not sure anyone but the star himself knows.
"Enigmatic Russian" has become a hackneyed expression in the hockey world. Right now, there is no bigger enigma than the Washington Capitals number 8. Here's hoping he figures it out. The NHL is much more fun when Ovi's scoring goals.
Tags: Alexander Ovechkin, Evgeni Malkin, Maria Kirilenko, Mike Green, Nicklas Backstrom, Nicklas Lidstrom, Pavel Datsyuk, Robert Griffin III, sidney crosby
Trackbacks
Leave a Trackback